---
---
신형 1/8 몬스터 SAVAGE XL FLUX RTR
(해외배송 가능상품)
기본 정보

| | |
| --- | --- |
| 상품명 | 신형 1/8 몬스터 SAVAGE XL FLUX RTR |
| 판매가 | 880,000원 |
| 적립금 | 8,800원 (1%) |
| 상품코드 | P0000IWZ |
| 배송방법 | 택배 |
| 배송비 | 3,000원 (50,000원 이상 구매 시 무료) |
| 수량 | |
(최소주문수량 1개 이상 / 최대주문수량 0개 이하)
수량을 선택해주세요.
위 옵션선택 박스를 선택하시면 아래에 상품이 추가됩니다.
상품 목록
상품명
상품수
가격
신형 1/8 몬스터 SAVAGE XL FLUX RTR

880000

(  

8800

)
총 상품금액(수량) : 0 (0개)
상품상세정보
Savage XL Design with Flux Power
The Savage XL FLUX is based on the already awesome long wheelbase and extra-wide Savage XL platform, featuring a low-mounted FLUX 2200KV motor in place of the big-block nitro engine, a powerful FLUX 6S-capable speedo in place of the fuel tank, and twin battery boxes hanging on the outside to hold a variety of battery types. Power your Savage XL FLUX with a pair of matching LiPo batteries equipped with 2S 7.4v or a whopping 3S 11.1v power! This truck is packed with HPI upgrades and options, including the 2.5mm TVP (Twin Vertical Plate) chassis, tough all-metal gear drivetrain, extra-powerful metal-gear servo, sintered diff gears and legendary Savage suspension parts and shock towers for extreme durability! Big Bore shocks at each corner of the Savage XL FLUX take up the shock of big-air landings and give you excellent control and traction on any surface.
Please see our note below recommending LiPo batteries above 4000mAh and 25C to get the most out of the electronics in the Savage XL FLUX.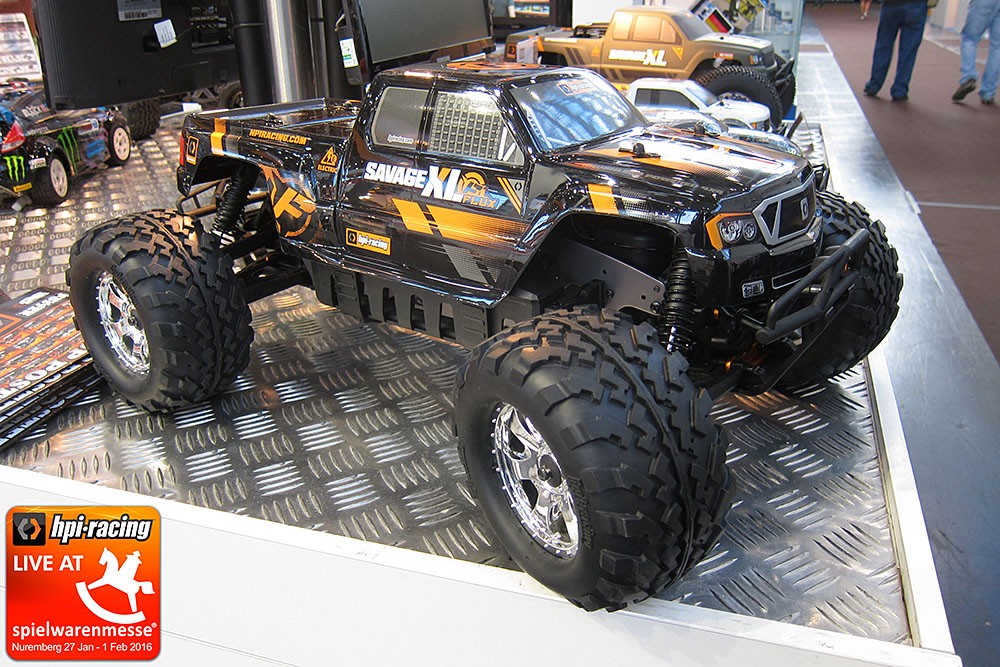 Controlling the Flux 2200 motor is the Flux ELH-6S electronic speed controller, the most powerful brushless speed controller we could fit in the Savage XL FLUX. With the ability to handle twin 3S LiPo batteries (that's a total of 6S LiPo power!) it can deal with anything the Flux 2200 motor can dish out! 6.5mm bullet connectors secure the motor wires for loss-free connection to the 12-gauge wires, and to connect to each battery pack we've attached two real Dean's connectors for zero power loss and total efficiency. We figured why re-invent the wheel and release our own connector when the best is already available? Topping off the versatility of the speedo (literally) is an integrated cooling fan, which allows the speedo to operate at its ideal temperature.
Input voltage: MIN 2s LiPo, MAX 6s LiPo
Max continuous amperage: 150A (full throttle continuous operation with cooling airflow)
BEC specifications: 6V/3A Switching BEC
Brake: Proportional
Reversible: Yes - with lockout
Size: L 59.5mm (2.34"), W 48mm (1.89"), H 42mm (1.65")
Weight: 178 g (6.28 oz)
Finally, you have the ability to easily connect it to your computer for total programming control! With our #101856 Flux Reload ESC Program Box you can connect the ELH-6S to any Windows-based PC to control all the various facets of its power delivery, braking, throttle curves, battery cut-off and much more. You can also save various profiles to have profiles for racing, insane speed runs, stunts, fun running and more.
Motor and Battery Combinations
The Flux Tork Brushless Motors requires very powerful batteries to get the most out of them - please make sure that you use the right combination! HPI highly recommend the use of LiPo batteries above 4000mAh and 25C. Using batteries with lower ratings, or the use of lower quality LiPo batteries, may cause damage to battery and/or speed control. Using batteries below the specified ratings may void the warranty of the speed controller and/or batteries. The term Kv refers to the number of RPMs that the motors will try to deliver per volt applied, and is a standard term for brushless motor power.


Extra-Low CG
The FLUX 2200Kv motor sits extremely low in the chassis, providing as low a centre of gravity (CG) as possible, and the twin battery packs ride on the outside of the TVP chassis plates, where the tuned pipe and fuel tank on a nitro-powered Savage would usually rest. The low CG gives you extra control and cornering ability, allowing you to rule the corners on the track and pull off spectacular stunts to impress and wow your friends!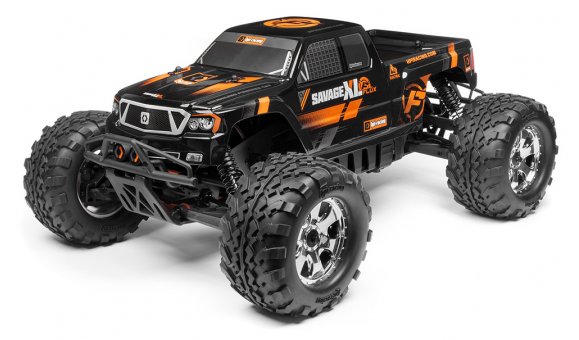 Super Durable Savage Drivetrain
To handle the FLUX power we've added nearly every drivetrain upgrade we have into the Savage XL FLUX! The spur gear and pinion are heavy duty steel and the transmission features all-metal gears. The differentials are fitted with extra-tough sintered metal heavy-duty differential pinion and ring gears, plus sintered metal 4-gear internals and metal casings at both ends. Steel diff outdrives, extra-thick super heavy-duty dogbones and steel extended axles finish off the drivetrain, and everything spins on rubber-shielded bearings to make sure as much power gets to the ground as possible!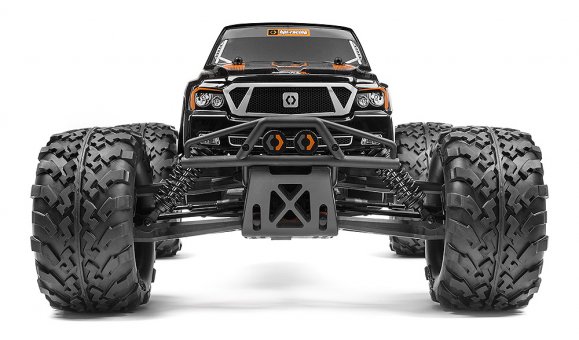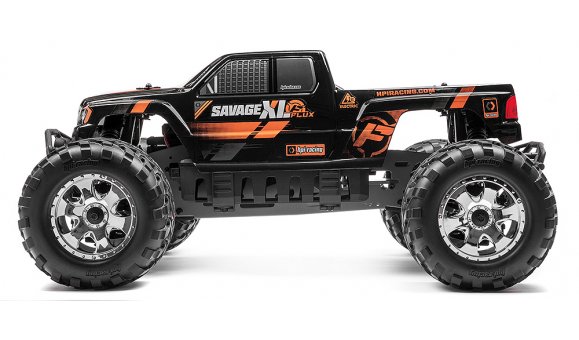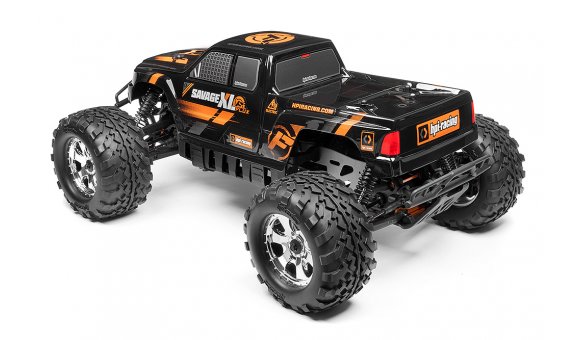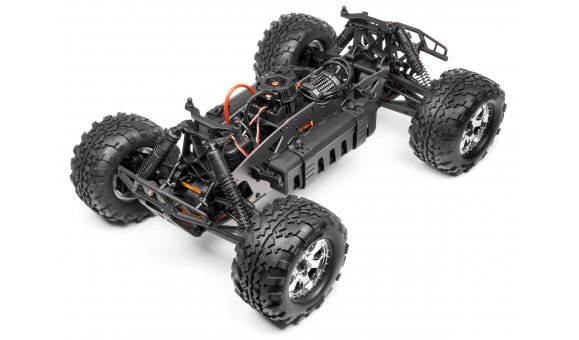 Features
Factory-assembled & pre-painted electric-powered 4WD 1/8 scale electric-powered monster truck
2.4GHz radio system
2.5mm TVP (Twin Vertical Plate) chassis with XL-long wheelbase
HPI high torque steering servo
HPI FLUX 6S-capable brushless ESC
HPI FLUX 2200KV brushless motor
6S LiPo capability
Big Bore silicone oil-filled shocks
All-metal bulletproof drivetrain
43-tooth steel spur gear
Super heavy-duty dogbones
Sintered diff gears
17mm hex hubs
Shock towers have multiple shock mounting positions
Quick access to the front or rear differential by removing just 4 screws
Cam type servo saver
Twin vented battery boxes with locking battery box doors
All socket head hardware
Slipper clutch to protect drivetrain
Protected receiver box
3mm 7075 motor plate
Dual 8mm billet motor clamps
4-gear differentials
Aluminum front and rear suspension braces
Front and rear skid plate bumpers
Full set of ball bearings
Chrome Warlock wheels
상품결제정보
고액결제의 경우 안전을 위해 카드사에서 확인전화를 드릴 수도 있습니다. 확인과정에서 도난 카드의 사용이나 타인 명의의 주문등 정상적인 주문이 아니라고 판단될 경우 임의로 주문을 보류 또는 취소할 수 있습니다.

무통장 입금은 상품 구매 대금은 PC뱅킹, 인터넷뱅킹, 텔레뱅킹 혹은 가까운 은행에서 직접 입금하시면 됩니다.
주문시 입력한 입금자명과 실제입금자의 성명이 반드시 일치하여야 하며, 7일 이내로 입금을 하셔야 하며 입금되지 않은 주문은 자동취소 됩니다.

배송정보
배송 방법 : 택배
배송 지역 : 전국지역
배송 비용 : 3,000원
배송 기간 : 3일 ~ 7일
배송 안내 : - 산간벽지나 도서지방은 별도의 추가금액을 지불하셔야 하는 경우가 있습니다.
고객님께서 주문하신 상품은 입금 확인후 배송해 드립니다. 다만, 상품종류에 따라서 상품의 배송이 다소 지연될 수 있습니다.
- 영업일 기준 2일 이내 미출고 물품은 해외 수입 제품입니다.
교환 및 반품정보
교환 및 반품이 가능한 경우
- 상품을 공급 받으신 날로부터 7일이내 단, 가전제품의
경우 포장을 개봉하였거나 포장이 훼손되어 상품가치가 상실된 경우에는 교환/반품이 불가능합니다.
- 공급받으신 상품 및 용역의 내용이 표시.광고 내용과
다르거나 다르게 이행된 경우에는 공급받은 날로부터 3월이내, 그사실을 알게 된 날로부터 30일이내

교환 및 반품이 불가능한 경우
- 고객님의 책임 있는 사유로 상품등이 멸실 또는 훼손된 경우. 단, 상품의 내용을 확인하기 위하여
포장 등을 훼손한 경우는 제외
- 포장을 개봉하였거나 포장이 훼손되어 상품가치가 상실된 경우
(예 : 가전제품, 식품, 음반 등, 단 액정화면이 부착된 노트북, LCD모니터, 디지털 카메라 등의 불량화소에
따른 반품/교환은 제조사 기준에 따릅니다.)
- 고객님의 사용 또는 일부 소비에 의하여 상품의 가치가 현저히 감소한 경우 단, 화장품등의 경우 시용제품을
제공한 경우에 한 합니다.
- 시간의 경과에 의하여 재판매가 곤란할 정도로 상품등의 가치가 현저히 감소한 경우
- 복제가 가능한 상품등의 포장을 훼손한 경우
(자세한 내용은 고객만족센터 1:1 E-MAIL상담을 이용해 주시기 바랍니다.)

※ 고객님의 마음이 바뀌어 교환, 반품을 하실 경우 상품반송 비용은 고객님께서 부담하셔야 합니다.
(색상 교환, 사이즈 교환 등 포함)

---